---
Strategic management toolkit & workshops
designed to support Companies reinventing themselves in a new era. Our RestartCanvas is suitable for every kind of business: from SME to Multinationals, from a grocery store to big retail' networks, from a startup to an old brand, from mechanics to art...for all those companies who want to innovate and find a reliable and trusted new path.

RestartCanvas is a brainstorming tool and a set of workshops for entrepreneurs, managers, freelancers, and startuppers that helps them visualize their whole new strategy on one page.
Analyze
The toolkit helps companies reinvent themselves amidst current challenges and long-term changes. RestartCanvas has been created to support entrepreneurs and managers in having a snapshot of the situation and in finding new tactics and strategies to face changes.
Innovate
Tightly align innovation, new product development, new processes adoption, cost-effectiveness, top-down/bottom-up strategies, and other business initiatives for long-term growth and profitability.
Growth
Deep understanding of the situation, ongoing experiments, and a process of critique and questioning all outstandingly contribute to the practice-defining, logical, creative and reliable method of creative innovation.
4
TRANSLATIONS
---
EN / IT / ES / PT
257
COMPANIES
---
that already use the Canvas
WHAT RESTART CANVAS IS?
It is a brainstorming tool for management, whose objective is to help you to set and to visualize an effective strategy, synthesizing everything you need to do, on one page. It is a tool designed to help business development and innovation.
HOW SHOULD I USE RESTARTCANVAS?
You can use paper, a whiteboard, colored markers or Post-It to brainstorm, or you can use a digital tool to capture and determine all your ideas. The most crucial and important thing is to keep track of all the blocks of the canvas and all the ideas from RESTART CANVAS.
IS IT A TEAMWORK TOOL?
It is ideally designed for teamwork, but you can also brainstorm on your own. The important thing is to get out of your comfort zone, from the previously predefined paths and from the predetermined ideas (Coronavirus has changed the environment. Which ideas are still valid?) Encouraging yourself and your team to express their point of view and their intuitions. After determining the individual blocks, you must create a global and strategic vision.
CAN I SHARE RESTARTCANVAS?
Of course. RESTART CANVAS has been created to help as many companies as possible. It can also be a useful tool for different company departments, in the case of companies with department structuring. Remember that the CreativeCommons license requires to share it without modification and without commercial purposes. If you are a consultant and want to share it, you must contact us at first
CAN YOU TELL ME MORE ABOUT THE WORKSHOPS?
Sure. We designed our RestartCanvas to allow entrepreneurs and managers to use it by themselves. Shortly after, we started receiving requests from companies. They were asking about support to manage the whole management tool or to focus on a single area. So, we created a set of workshops.
ARE THE WORKSHOP PERFORMED JUST IN ITALY?
Absolutely not. We are able to support companies all over the world, thanks to technology. Our workshops are performed using live webinars, video-calls, 1-to-1 e-meetings, project management online tools. Our international team is ready to support you all around the world.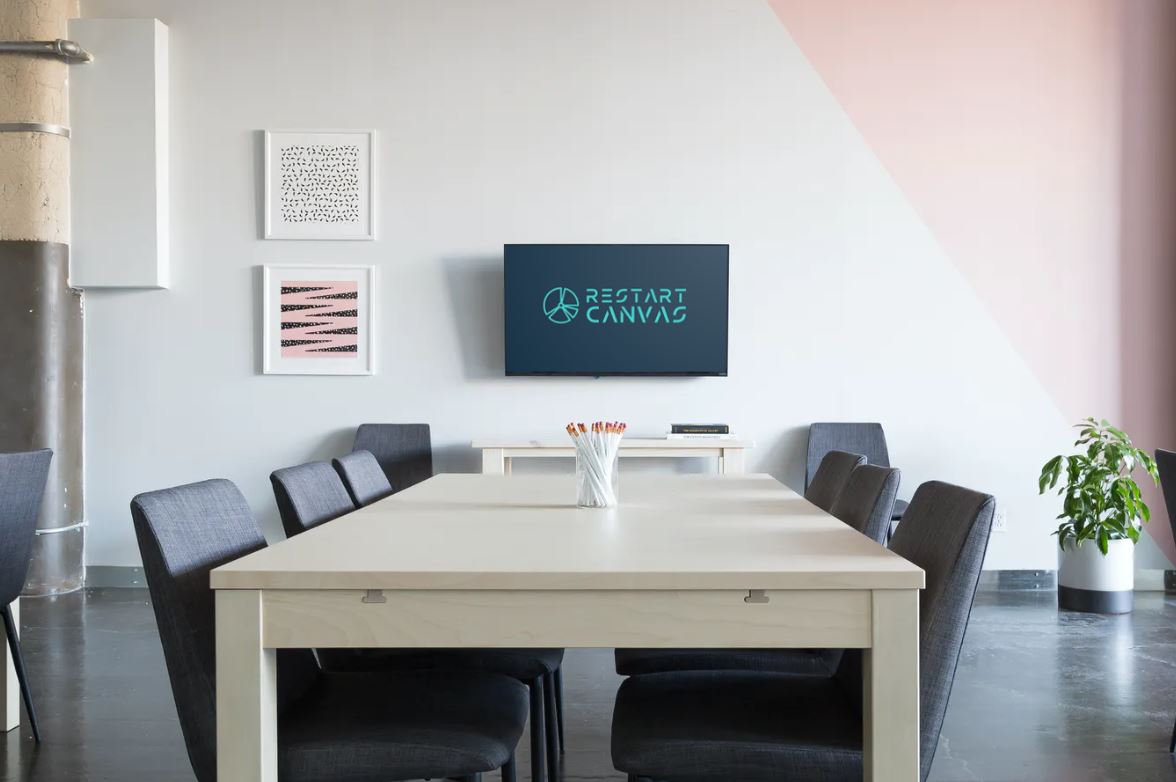 Online RestartCanvas ACADEMY
How do I put the RestartCanvas into action?

We created our workshops to help you make your winning strategy. We support you with all the most innovative and trusted tools to guide you in filling up the RestartCanvas.

These courses are perfect for:
- Entrepreneurs, looking for a better overview of the strategy
- Startups and SME, searching for an innovative solution
- Professionals in medium-sized and large companies
- Sales and Marketing managers, updating their targets

Best thing since sliced bread.
Guess what: you can have the entire workshop, to go though all the different areas, or select your main focus and master it.